Meeting the needs and expectations of local customers
Together we are stronger. That's why we reach out to others for their knowledge and to share ours and so establish an international distribution network. We would like to introduce: Abadiah Laboratori Sdn Bhd from Malaysia. Here we tell you more about this collaboration.
A new player in animal health, Abadiah Laboratori Sdn Bhd (Abadiah Lab) has been providing expertise and diagnostic testing to the poultry livestock industry since 2020. Why poultry? Because poultry farming is the largest livestock industry in Malaysia.
A local distributor for a global product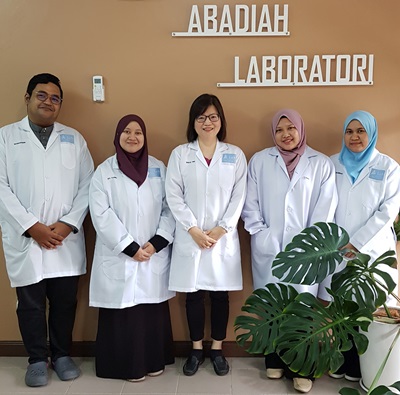 Although Abadiah Lab's collaboration with GD only dates back to May 2022, the industry feedback has already been very positive. Local farmers, veterinarians, veterinary pharmaceutical companies, animal feed companies and local authorities are all looking forward to engaging with GD and its diagnostic products, laboratory assurance programme and training. Indeed, many stakeholders in the animal health industry in Malaysia had already experienced GD services such as its Proficiency Test Scheme (PTS) which offers important criteria for assessing laboratory performance and accreditation. It was against this positive background that Abadiah Lab did not hesitate to accept the opportunity to work with GD as a distributor of its products. A local distributor for a global provider is essential, asserts Dr. Tan Sheau Wei at Abadiah Lab, "A distributor can easily identify and understand the needs and concerns of Malaysian stakeholders in combating infectious animal diseases and improving production. Furthermore, the distributor has experience and knowledge of local practices and regulations, facilitating the development of relevant animal health programmes and the import of related products.
Knowledge-based solutions to animal health problems
As a provider of serological and PCR tests, as well as sequencing and bioinformatic analysis, Abadiah Lab will work with GD to meet the vaccine efficacy and training needs of the Malaysian poultry industry. Together the two companies will offer customers knowledge-based solutions safeguarding the performance and reliability of diagnostic tests and offer dedicated education and training in animal health. One such solution is the online Insight in Poultry Health and Food Safety training that Abadiah Lab and GD launched at the end of 2022. As far as Dr. Tan is concerned, everyone will benefit from the collaboration, "Abadiah Lab hopes that the online training will connect GD to the local market and local participants will benefit." Aimed particularly at local poultry farmers and veterinary pharmaceutical companies, this training is just one example of how local knowledge and external expertise can come together to offer local stakeholders the skills they need. By working together, GD and Abadiah Lab can ensure that expertise and technology are transferred efficiently and meet the needs and expectations of local customers. Dr. Tan, "Our clients are looking forward to the engagement with GD in diagnostic products, laboratory quality assurance and training.